On 1st April 2019, it became law for around 11,900 large UK companies, including 7,600 ESOS obligated companies to calculate and include energy usage and carbon emissions data in their annual accounts filed at Companies House under new SECR legislation.
CLS Energy have already taken numerous companies to full SECR compliance including: Abbey Logistics, Agilent, Aico, Bottomline, Cancer Research UK, Future Industrial Services, Howard Tenens, Landmark, M J Church, RSPB, and Unisurge, are working with us towards carbon neutrality.
For ESOS mandated Companies, CLS Energy Ltd are providing this as an add-on service. For around 4,300 UK companies, this will be entirely new. We would be pleased to help you to take best advantage of this opportunity. We can also offer the full consultancy package to help you achieve net carbon neutrality.
Large companies and Limited Liability Partnerships (LLPs) are defined under the Companies Act 2006 as mandated to conduct SECR as follows: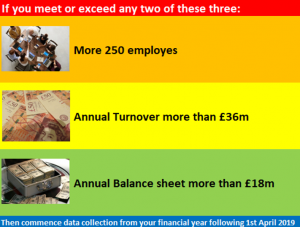 Reporting for SECR (in scope 'Private' Companies and LLPs) must include:
UK energy use (Minimum purchased electricity, gas & transport).
Scope 1 and 2 emissions (quoted companies)
Associated greenhouse gas emissions (six of the the seven Kyoto gases).
At least one intensity ratio.
Previous year's figures for energy use and GHG emissions (except first year).
Information  about energy efficiency actions taken in the financial year.
Methodologies used in calculation of disclosures.
Formal report setting out measures to deliver energy efficiency during the period
The requirements of  SECR will apply to a company's financial years beginning on, and after, 1st April 2019.
Please begin collecting all of your electrical energy, combustible fuel and all transport fuel data if you believe you may be captured by it.
Exemptions include those whose total energy use is below 40MWh over the 12 month reporting period. However, this still requires a report. Whilst this may sound a lot, 40MWh is equivalent to around 9 houses worth of electricity or one to two company cars in use.
If you believe your company may be affected by SECR or you'd like to understand how we can support you to ensure compliance, please contact our sustainability and energy experts in complete confidence and no obligation by e-mail at info@clsenergy.com or call 01865 421008 to discuss. 
If you have more questions visit our FAQ section on ESOS and SECR.
The Companies (Directors' Report) and Limited Liability Partnerships (Energy and Carbon Report) Regulations (2018), implements Government policy on Streamlined Energy and Carbon Reporting (SECR).